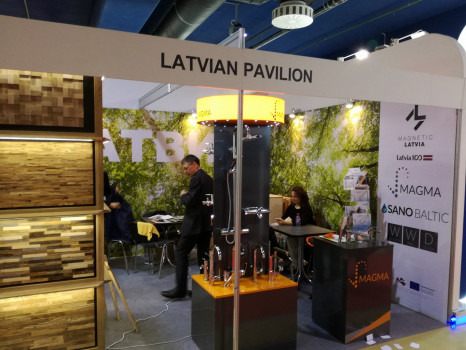 MAGMA export team has returned from participating in largest Eastern European and Asian construction and decorating/building materials exhibition MOSBUILD 2018 which took place in Moscow from April 2 to April 5 with new impressions and gained valuable experience.
Participation in the exhibition was a part of an organized mission by MAGNETIC LATVIJA and Investment and
Development Agency of Latvia about promoting the competitiveness of Latvian products in export markets. MAGMA as
a supporter of Latvian economy and exemplary taxpayer participated in this mission in order to expand export of its own productions.
MAGMA sells sanitary ware and faucets for more than 20 years and almost for 10 years assembles faucets under its own trademark in its own industrial sanitary district which is located between Katrinas dambis, Piena iela and Maza Piena iela. Participation in exhibition MOSBUILD 2018 gave another confirmation about the quality of MAGMA faucets and their high competitiveness with leading faucet manufacturers across Eurasia. Visitors of the exhibition took the opportunity to view the newest MAGMA faucet collections as well as learned technical details and nuances that make MAGMA faucets a quality product with a long-term warranty. After finding out that added value is really made in Riga, Latvia, it gained true appreciation from visitors to the exhibition.
Many visitors of the exhibition were surprised finding out that MAGMA faucets are not represented in the Russian market yet. That once more confirms that MAGMA is being considered as competitive when comparing to most recognizable Eurasia faucet manufacturers. In near future company's export specialists will continue to work with initiated leads in order to fulfil one of the company's main targets – to bring Latvia's name in the world. Clearly MAGMA is capable in doing this with chosen direction.
For your joy and convenience, MAGMA!
Comments (0)
No comments at this moment